Introduction
In this tutorial, we will see what are the possibilities of administering a HyperConverge Storage Spaces Direct (S2D) cluster with Windows Admin Center.
Windows Admin Center is a new administration and management interface for Windows Server and Windows 10.
Some features like SDN do not have a free admin console for administration outside the Windows Admin Center.
If you want to see virtual machine administration through this interface, I invite you to read the following tutorial: Windows Admin Center: Create a virtual machine on a Hyper-V host.
Add the Hyperconverged cluster
On the homepage, click Add 1 .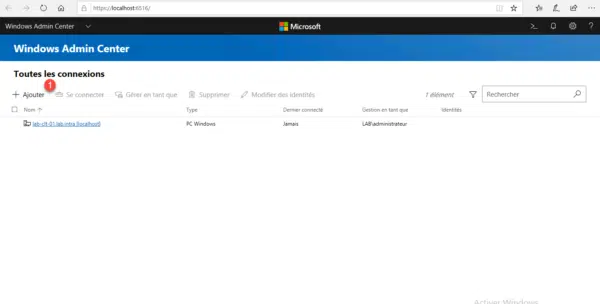 Click on Hyperconverged Cluster 1 .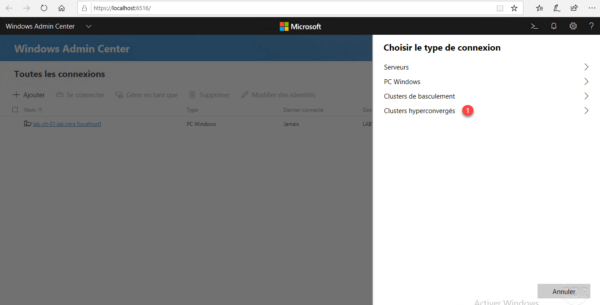 Enter the name of the cluster 1 then click on Add 2 . If you have deployed a network with SDN check the box A to enable the administration options.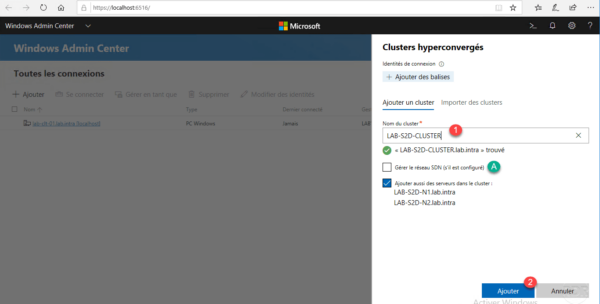 Cluster 1 as well as nodes 2 are added to the list of connections.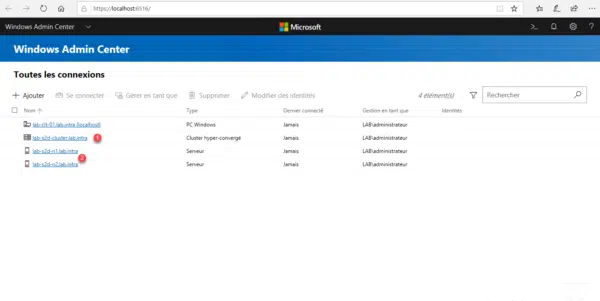 Before you can administer the hyperconverged cluster, it is necessary to add a resource on it. On a cluster node open a PowerShell command prompt and enter:
Add-ClusterResourceType -Name "SDDC Management" -dll "$env:SystemRoot\Cluster\sddcres.dll" -DisplayName "SDDC Management"
If the resource is not added here is the error that will be displayed: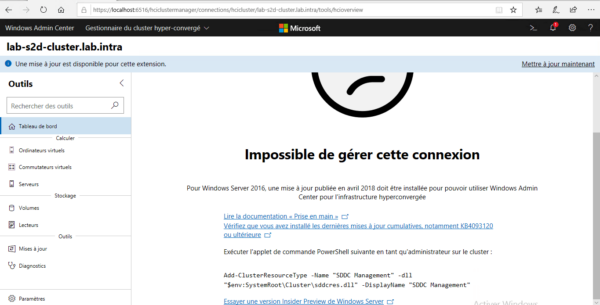 Management
Most of the administration elements are in two parts, the first one summarizes a set of information on the state and the performances and the second part Inventory makes it possible to list the elements and their administration.
On the list of available connections, click on the hyperconvened cluster to access the details.
Dashboard
This is the only menu that has only one part and displays a set of statistics and general status of the cluster.
Virtual computers
The summary displays an overview of the status of all virtual machines with a CPU / RAM resource consumption below … The inventory part allows management with the administration including the addition and removal of virtual machines.
Servers
This part displays the same information as for the virtual machines but on the various servers (nodes) which make up the hyperconverged cluster.
Volumes
The Volumes part also consists of two parts, displaying the information and administration of the virtual hard disks created on the cluster storage pool (s).
Drives
This section displays the status of the physical hard disks of the servers that make up the storage pool (s) in the Storage Space Direct (S2D) cluster.
On the first capture, we can see that a hard disk is reserved by server as spare.
Conclusion
Windows Admin Center is an essential tool for administering the new features offered by Windows Server 2016 and 2019 when you do not have System Center console.