Presentation of conditional forwarder
In this article, I will explain and show you how to set up a conditional forwarder on a Windows DNS server.
As a reminder, DNS redirection allows the service to send requests to another DNS service to resolve the request for an unknown zone.
A conditional forwarder is used to specify the DNS server (s) to contact to resolve a specific namespace (domain name). It can be set up in a multi-domain environment (for example child domain) or to resolve a namespace you own by specifying the NS servers of your registar.
The set below illustrates the processing of a request without conditional redirector (red) and with conditional redirector (green).
The other advantage of using a redirector for an area that is managed and to be able to bypass the cache (TTL) public servers.
Setting a conditional forwarder
Open the DNS Management Console.

Right click on Conditional forwarders 1 and click on New conditional forwarder 2 .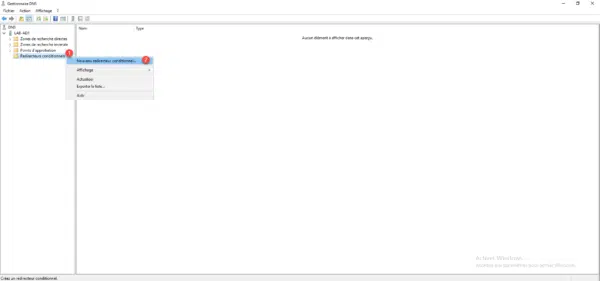 Enter the domain concerned by the redirector 1 , add the name servers (NS) 2 and click OK 3 .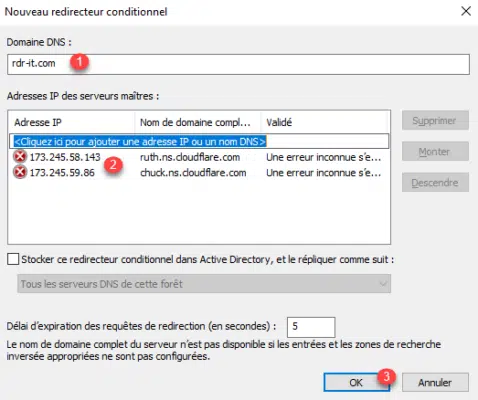 The redirector is added 1 .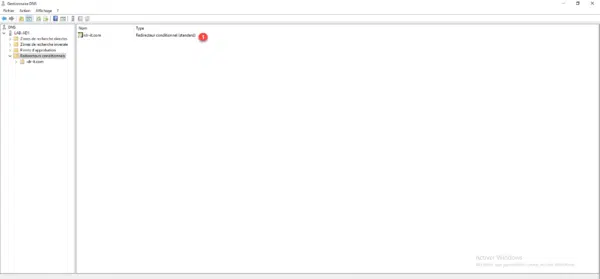 By opening the redirector, we can see the IP addresses of the DNS servers.