Veeam ONE Reporter : generate reports
Veeam ONE Reporter relies on the servers registered in Veeam ONE Monitor and uses the information collected to generate reports.
Veeam ONE Reporter is a web application that can be run from any computer.
Veeam ONE Reporter overview
1.Launch a browser and enter l'URL https://fqdn-server-veeam-one:1239
2. Log in to the application.
3. Once connected, we arrive on the DASHBOARD, which allows access to several dashboards. In the free version, it is only possible to consult the VEEAM BACKUP AND REPLICATION tile.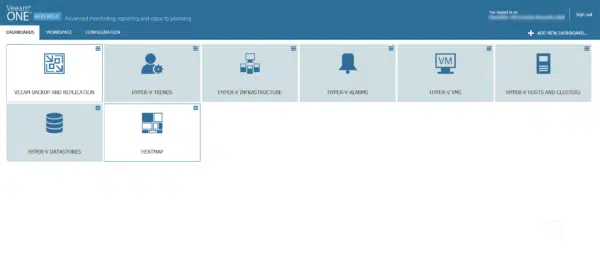 4. The VEEAM BACKUP AND REPLICATION dashboard provides an overview of Veeam B & R job status and server status.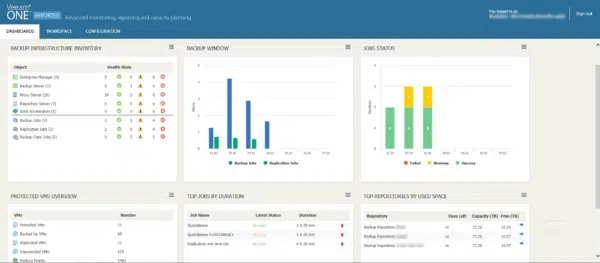 Access to reports
1. Click WORKSPACE 1 to access the list of available reports.
Example 1: Configuring Hyper-V VMs
This report is used to output the list of all virtual machines with their configuration (cpu / ram / disks …).
1. Select the Hyper-V Overview 1 / VMs Configuration 2 report.
2. Click Preview 1 to generate the report.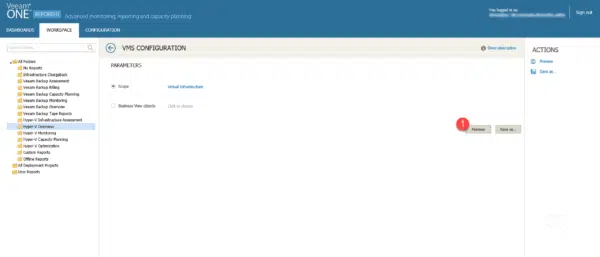 By default the report is generated on all Hyper-V servers, it is possible to filter the objects of the report.
3. The report opens in a new browser tab.
Example 2: Oversized Virtual Machines
This report displays VMs with more CPU and RAM resources than they use.
1. Select the Hyper-V Optimization 1 / Oversized VMs 2 report.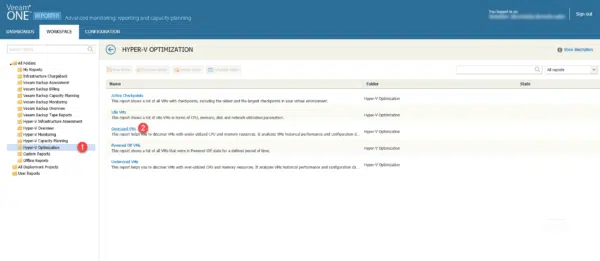 2. Configure the 1 report and click Preview 2 .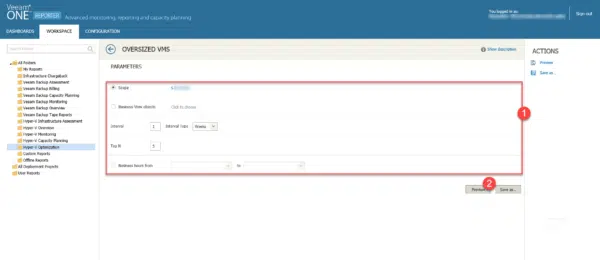 3. The report is available.
In addition to the report, recommendations are made, I do not necessarily advise you to follow them.
Export a report
It is possible to export in the following formats: Excel, PDF and Word.
Once the report is generated, click on diskette 1 and select the format 2 .

---
Many reports are available to help you maintain your infrastructure under optimal conditions.
An interesting report for clustered environments is the loss simulation of a node.