In this tutorial, we will set up a cache system on file servers to speed up access for remote sites.
For that we will set up the BranchCache solution.
BranchCache is an extended WAN bandwidth optimization technology that is included in some editions of the Windows 10 and Windows Server 2016 operating systems, as well as in certain editions of Windows Server 2012 R2, Windows 8.1, Windows Server 2012, Windows 8, Windows Server 2008 R2, and Windows 7. To optimize the bandwidth of a wide area network when users access content on remote servers, BranchCache retrieves content from content servers in your home office or the server. hosted cloud and cache it on branch office systems, allowing branch office client computers to access content locally instead of going through the WAN.

https://docs.microsoft.com/fr-fr/windows-server/networking/branchcache/branchcache
There are two cache modes:
Hosted cache: This mode uses a dedicated cache server on the remote site
Distributed cache: This mode uses clients at the remote site for caching.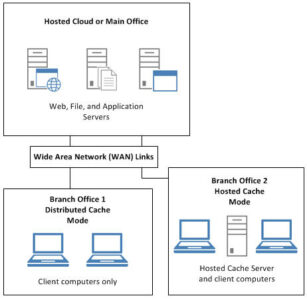 The two cache modes can not cohabit on the same remote site.
BranchCache technology can be used to:
Network sharing (SMB)
IIS Web Server (HTTP/HTTPS
BITS (WSUS).
Here is the list of BranchCache clients compatible with all 3 technologies that can also be used in a distributed mode:
Windows 10 Entreprise ou Education
Windows 8.1 Entreprise
Windows 8 Entreprise
Windows 7 Entreprise ou Ultimate.
Pro versions of Windows are only compatible with BITS.
In this tutorial, we will see BranchCache deployed in hosted mode on a dedicated Windows 2016 server.
Prerequisites:
Be in an Active Directory environment and master the creation of GPO.
Have a Windows 2012R2 file server minimum.
Having compatible clients.