ADMT (Active Directory Migration Tool) is a free Microsoft tool that allows the migration of objects (Users, Computers, and Groups) between two Active Directory domains.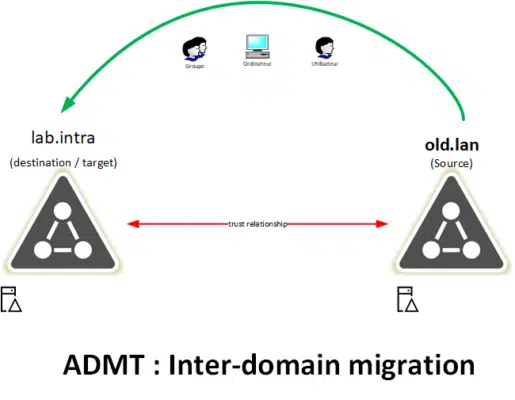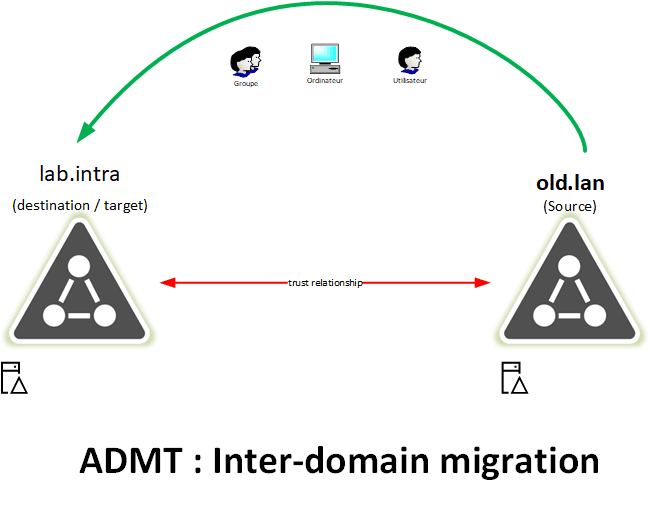 Some examples of using ADMT:
Enterprise merge to consolidate Active Directory.
Enterprise split to transfer the Active Directory objects to the new entity.
Deleting a child domain.
Prerequisites
A server dedicated to ADMT with a SQL Express database in 2008 version minimum.
An approval relationship must be in place between the two domains.
Use a user account in the BUILTIN \ Administrators group of both domains.
To migrate the computers, the target domain migration user account must also be the station's local administrator.
The migration account will be configured during the first object migration that will be done between the two domains. In the tutorial, I used the admin account of the destination domain. In case you want to dedicate an account to ADMT, ADMT must be a member of the Domain Admins group of the target domain and a member of the BUILT\Administrators group of the source domain.
Download the necessary tools: