In this tutorial, I will explain how snapshots and snapshots work in general and then how to activate them on Windows Server.
This functionality is often used on file servers to restore a file or a folder without going through the backup environment, which saves time and avoids handling.
Presentation of shadow copies
Shadow copies also called previous version or snapshot is a feature available on Windows Servers.
It allows to make a "backup" of a partition by storing only the modified files.
Operation
When making the snapshots at a time T (12H) a photograph of the partition is made, it contains only pointers to the files. At 14H a file on this partition is modified then save, at that moment, Windows will copy the old file to have it as it was at 12H. If the user who modified the file realizes that he made a mistake, it is possible to restore him as he was at 12H.
On which type of partition can I activate shadow copies?
This feature is mainly activated on the file servers, because it allows to restore a file at time T very quickly and allows to make several "backups" in the day taking few resources.
Personally I also activate it on the web servers taking care to separate on different partitions the file and database part.
On partitions containing virtual machines, databases, and system, it is not recommended to enable shadow copies.
Enabling shadow copies
1. Open Windows Explorer, right click on partition 1 where shadow copies are to be activated and click on Configure shadow copies 2 .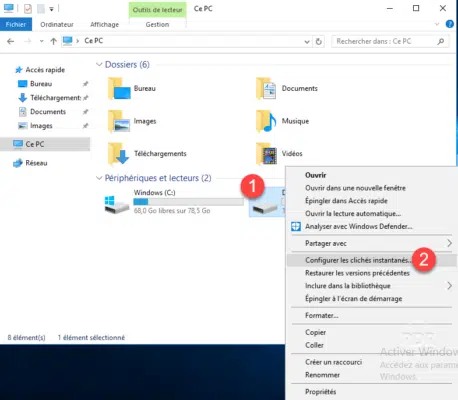 2. Before activating shadow copies, click Settings 1 .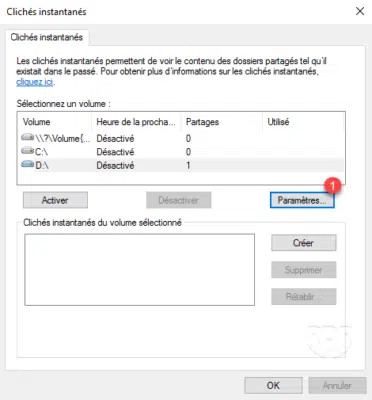 3. From here, you can configure the space allocated for shadow copies (the larger the space, the more restore points will be there). It is also possible to manage the planning, click on the button Plan 1 .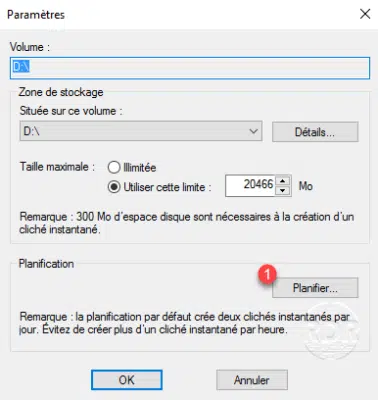 4. By default, there are two snapshots to configure at 7H and 12H, the MTWTF.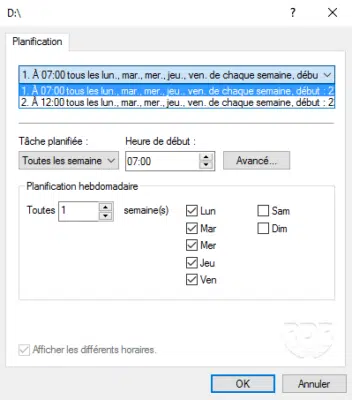 5. To add a schedule, click New 1 and configure it and click OK to validate.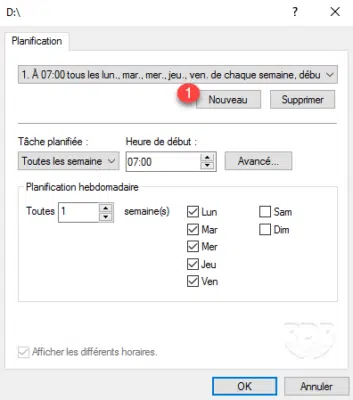 6. Now that the snapshots are set, click on Enable 1 .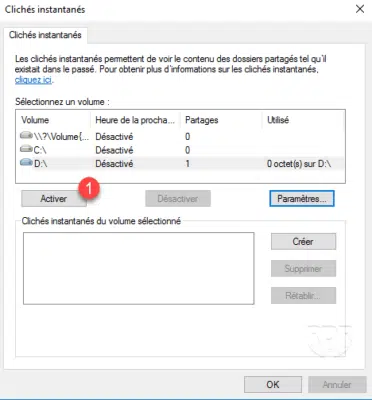 7. Confirm activation by clicking Yes 1 .
8. Shadow copies are now enabled, a first snapshot is done during activation.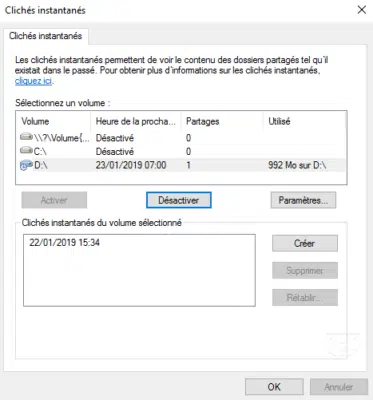 Using previous versions
Access to previous versions is available using Windows Explorer on clients (W7 / 8/10) and on Servers (2008/2012/2016/2019 …). They are available both locally and by network shares and by default are available to everyone.
1. From Windows Explorer, go to the folder where you want to restore the file and right click on 1 . Depending on the location and system two options are available 2 , click on:
Restore previous versions
properties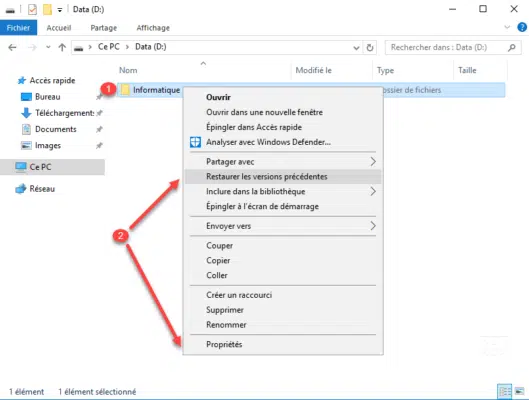 2. If you go through Properties, go to the Previous Versions 1 tab. Choose the recovery point to explore 2 and click Open 3 .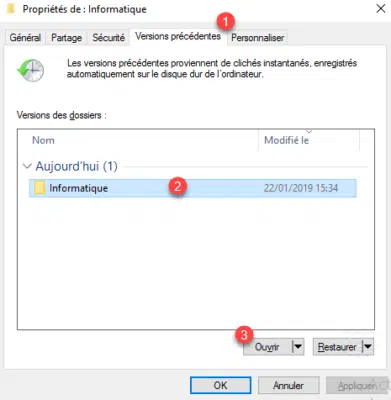 The Restore option allows you to directly replace the contents of the folder.
3. The snapshot content 1 is available in the Explorer, all you have to do is browse and copy / paste to restore the file / folder.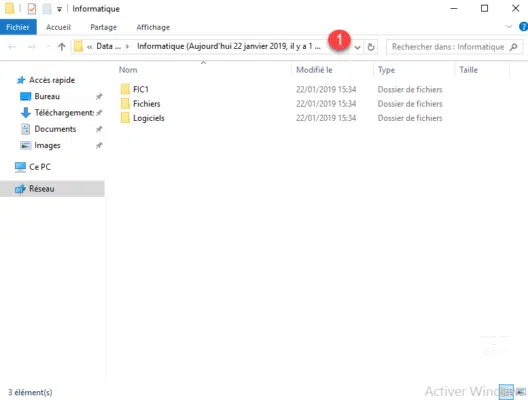 Conclusion
Shadow copies allow for "backups" and restores of a file server. Fast access to restore points can restore a file in less than 5 minutes, which is not the case with most backup software.
Il est quand même nécessaire de sauvegarder quotidiennement le serveur, les clichés instantanés ne remplacent pas une vrai sauvegarde.