In this article, I will explain how to solve this error simply.


Based on my research, this error appears on RDS (WS2012R2) servers using User Profile Disks (UPDs).
This error occurs when a user tries to install an extension on Google Chrome, I first think of a problem of right, with the admin account I got the same message, so I search on Google and I came across this article (in English) which explains why and how to solve it.
I first tested the solution with an account made the changes manually on the environment variables and I was able to install my Chrome extension.
The solution :

First, you must create on each RDS server, a TEMP folder at the root of the C with write / modify rights for everyone.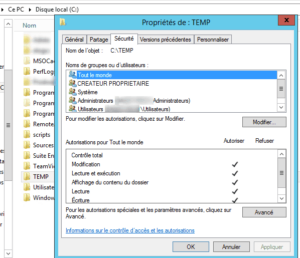 Then you need to set up a GPO, which does two things:
For each user who logs in to create a personal folder in the C: \ TEMP folder
Edit TEMP and TMP environment variables
There are two settings to apply at the user level.
Creating the personal folder in the TEMP folder:

Changing environment variables:

All you have to do is close and re-open the sessions to install the Chrome extensions without error.