In this tutorial, I will walk you through how to install Microsoft Edge using WSUS services.
Microsoft is ending support for Edge Lecagy on March 9, 2021, so it is imperative to deploy Microsoft Edge to ensure workstation security.
Add the Microsoft Edge product to WSUS
From the WSUS console, go to Options 1.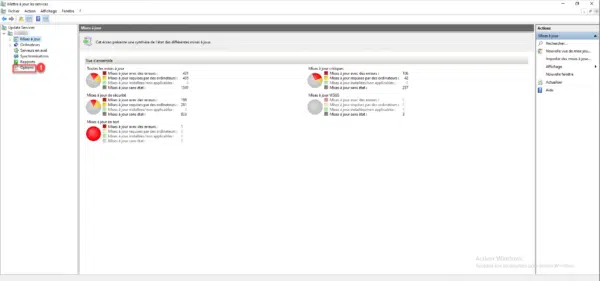 Then click on Products and Classifications 1 to access the list of products that can be managed by WSUS.
In the list of products, check the box Microsoft Edge 1 that is in Windows. Then click on Apply 2 and OK 3.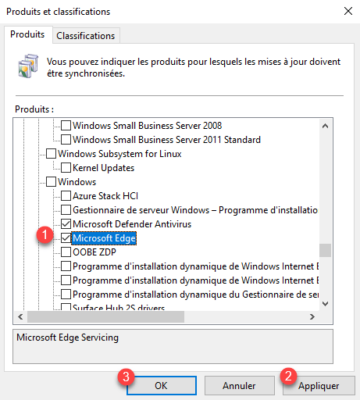 WSUS is now configured to recover Microsoft Edge.
Synchronize the WSUS server
We will now force a synchronization to update the list of updates so that WSUS retrieves the Microsofr Edge updates.
On the WSUS server tree, right-click on Synchronization 1 then click on Synchronize now 2.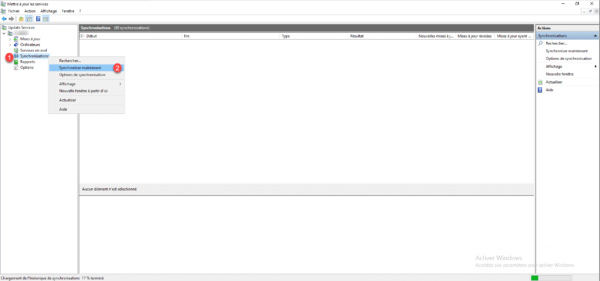 Wait while synchronization, it is possible to follow its progress from the server overview.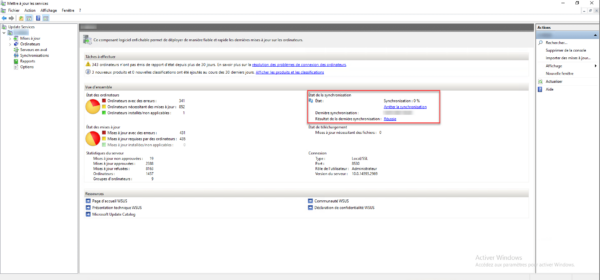 Approve MS Edge updates in WSUS
Now that the synchronization is complete, we need to approve the updates to Microsoft Edge.
During the first synchronization, WSUS retrieves all the available updates, you must first refuse the replaced updates.
In the navigation panel, go to All updates 1, filter with Approval: Not approved to display all pending updates.
To refuse the updates, select them then right click and click on Reject. You can also refuse the ARM64 versions if you do not have an ARM64 computer and also the Beta and Dev channels in order to keep the stable x64 and x86 versions
When there is only what you want to deploy, select Ms Edge 1 updates, right click and click Approve 2.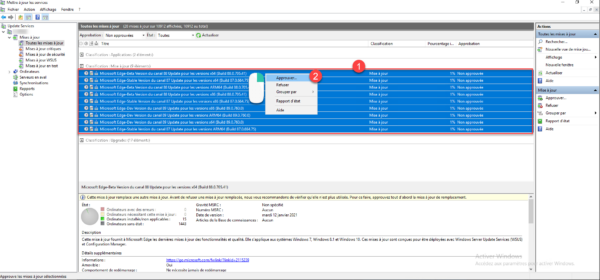 Configure the approvals for the installation then validate and wait during the configuration …
The WSUS server, after the approval for the installation will download the updates, it is possible to follow this step from the server table in the WSUS console.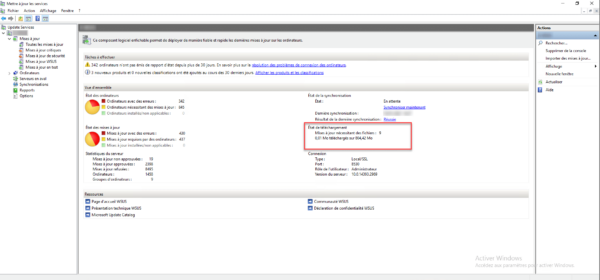 Track the installation of MS Edge
The benefit of using WSUS for MS Edge deployment versus using Group Policy is being able to track installation status on computers.
To access the reports, there are several solutions :
Go through the update view and click on the labels to access the report
Go through the WSUS report generation and put the right filters.
Here are two sample reports :
Conclusion
Now you know how to easily deploy MS Edge with WSUS.
MS Edge is configurable by group policy, if you do not have the settings in your Active Directory console, you need to update the ADMX definitions