Connect to a VDI Virtual Desktop
In this last part of the VDI tutorial, we will see how to connect to a virtual machine in a VDI deployment.
Open an Internet browser (preferably IE) and enter the address (fqdn name) of the web access server: https: //lab-gw-rds.lab.priv/rdweb and identify on the portal using 'an account authorized to connect to a virtual machine.
Click on the RDP icon of collection 1 and run the RDP file 2.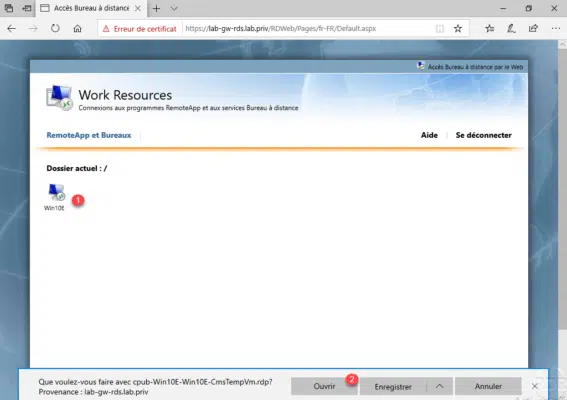 When launching the RDP client, click on the Connection 1 button.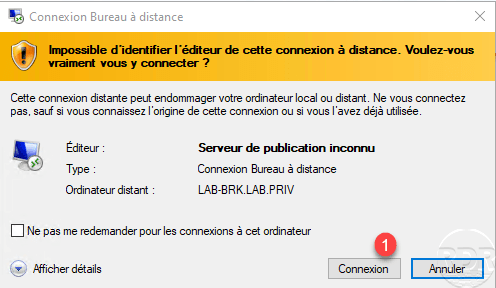 As we can see on the screenshot above, the RDP connection is made on the Broker server
Enter the credentials of a user account 1 and click OK 2.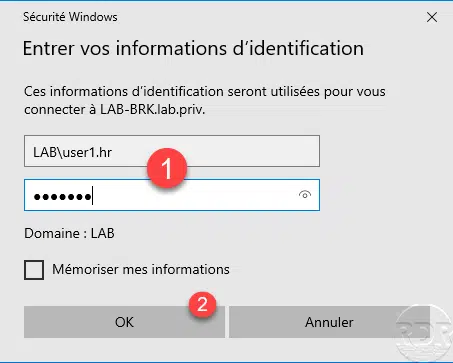 Wait during connection, it takes longer compared to an RDS farm.

The connection is established on a virtual machine, wait while opening the session.
The user is logged in to the virtual office.
---
Go to the broker server, in the management of virtual desktops you can see the user connected to the machine.
In the shared folder for the user profile disks, we see that a vhdx file has been created, this one contains the user's profile.