Configuring the iSCSI Initiator
The operations are to be done on each server where you must present the disks.
1. Open the control panel.

2. Click iSCSI Initiator 1.
3. If this is the first time you click on it, Windows will ask you for a confirmation of the installation of the service, click on Yes 1.
4. Enter the IP address 1 of the server where the iSCSI target role is installed and click Quick Connect … 2.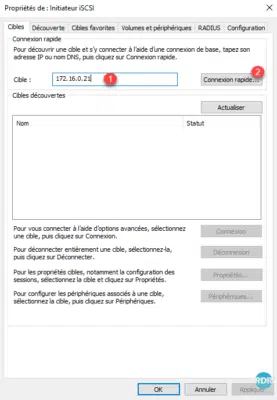 In discovered targets, if the target server is not displayed, this is because the server has not recognized the initiator and, for security reasons, the volumes are not presented, if the target is displayed go to point 11.
5. Return to the server where the target role is installed. From the manager of this server right click on the target iscsi 1 and click Properties 2.
6. Go to Initiators 1 and click the Add … button.
7. Normally you should see the initiatior server with its IQN 1, select it and click OK 2.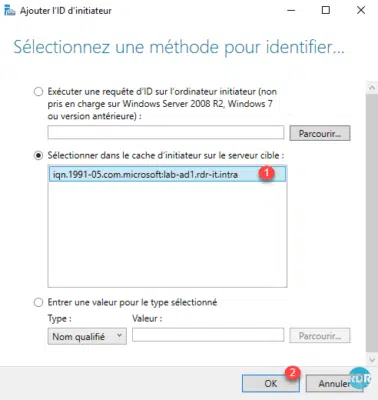 8. Select the initiator configure in DNS 1 and click the Delete button 2.
9. Apply 1 and click OK 2.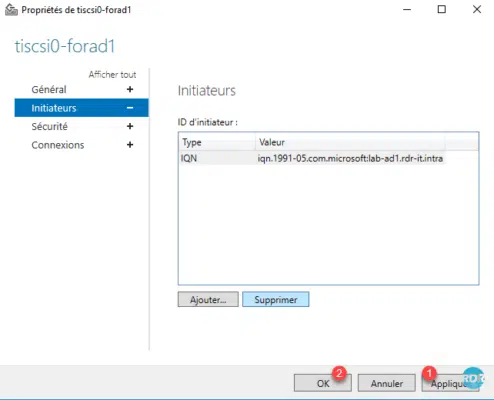 10. Return to the server where you are presenting the volume and click Refresh 1.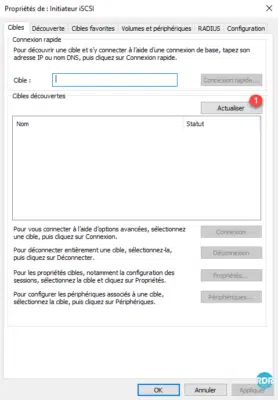 11. Select target 1 and click on Connection 2.
12. Click OK 1 to confirm the connection.
13. Return to the target server and verify that Virtual Disk 1 and Target 2 are connected.