Restrict access to a Word document with AD RMS
In this part, we will see how restricted access to a Word document using AD RMS.
Pour rappel il faut :
an email address configured to users
Office Pro (201X) to apply restrictions.
Pour fonctionner, il peut être nécessaire de mettre l'url du cluster en site de confiance dans les options Internet.
In Word, create a document, save it, and then click FILE 1 .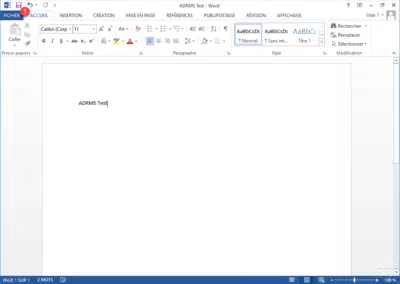 Click on Protect document 1 , go to Restrict access 2 and click on Restricted access 3 .

The window that opens allows you to configure read and edit accesses, check the Restrict access to 1 box and click on the "group" icon in the Read 2 section.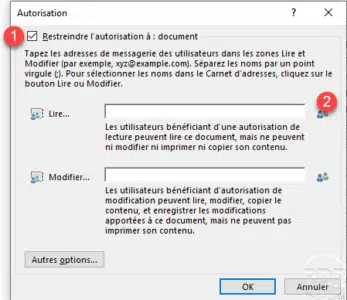 Search for a user or group with a configured email address 1 and click OK 2 .

On the screenshot below, we can see that only the user [email protected] can read the document. Click on Other options 1 .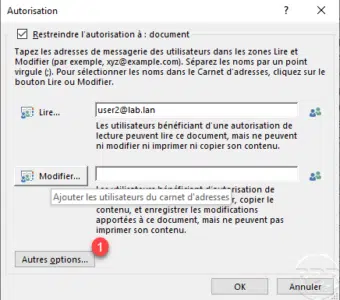 From this rights view, you can add other users or groups, add an expiration date …, click OK 1 to configure permissions on the Word document.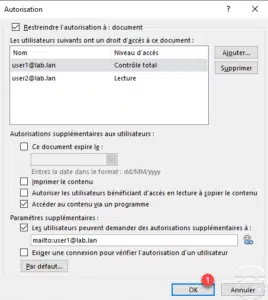 Dans les informations du document, on peut voir que celui-ci est protégé.

Depuis le mode édition, un bandeau s'affiche aussi pour indiquer que le document est en Accès restreint.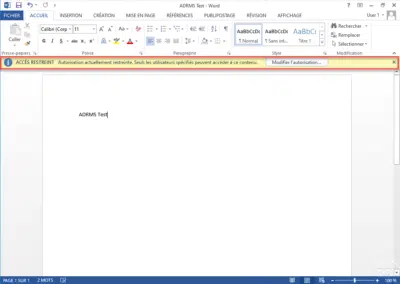 Now try to open the same document with a user who does not have the right to access the document, at the opening of it an error message indicating to contact the owner of the content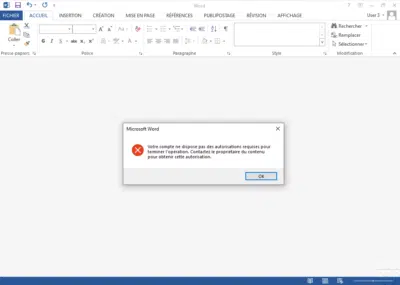 .


If a user who does not have a configure e-mail address tries to open the document, you receive the following error message: The application received an unexpected response from the Rights Management server due to an incorrect configuration or a server error. Please contact Microsoft for additional assistance.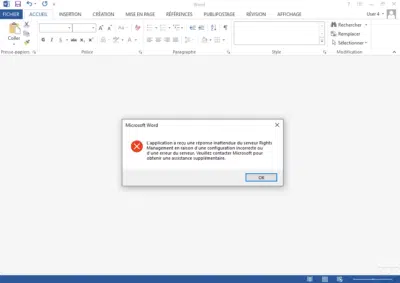 The message below can be confusing by returning an RMS server error.