AD RMS post-deployment configuration
Before running the Post Deployment Configuration Wizard, install the certificate in IIS.

Once the certificate is installed, return to the Server Manager, click on the notification icon 1 and click on Perform additional configuration 2 .

When the wizard launches, the summary of AD RMS services is displayed again, click Next 1 .

Choose the Create a new AD RMS root cluster 1 option and click Next 2 .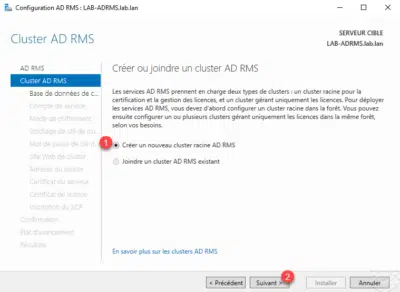 Choose User Windows Internal Database on this server 1 and click Next 2 .

Using the Windows internal database does not allow you to add another server to the cluster.
Indicate the service account created at the beginning 1 and click Next 2 .

Choose the encryption mode 2 1 then click Next 2 .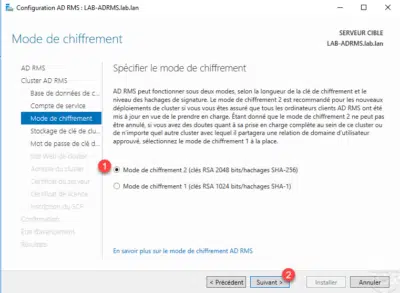 Configure key storage by selecting User Centrally Managed AD RMS Key Storage 1 and clicking Next 2 .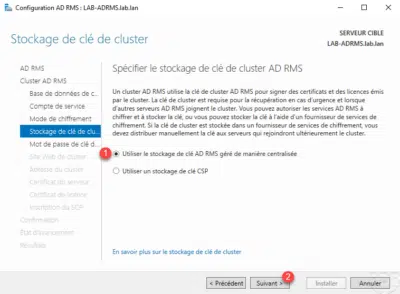 Enter the password for cluster 1 and click Next 2 .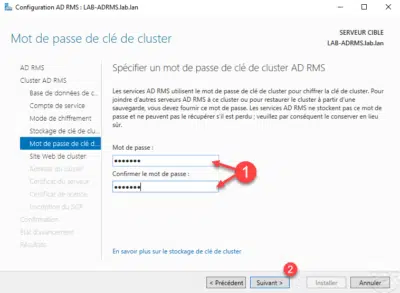 This password will be required to join from another server to the AD RMS cluster.
Choose the site used IIS for AD RMS 1 then click Next 2 .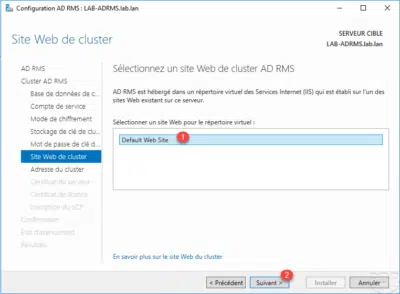 Choose the type of SSL connection 1 , enter the domain name of the cluster 2 (URL) and click Next 3 .

Choose the certificate that corresponds to the DNS name of cluster 1 then click Next 2 .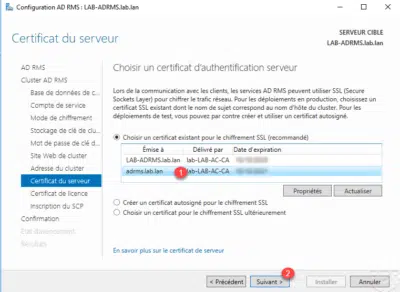 If necessary, change the name of the server license certificate 1 and click Next 2 .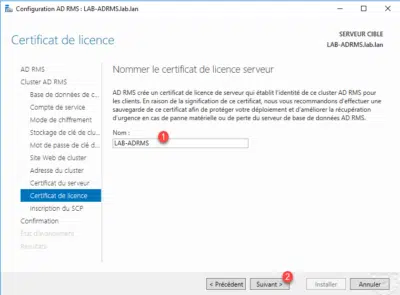 Choose the option Save service connection bridge now 1 and click Next 2 .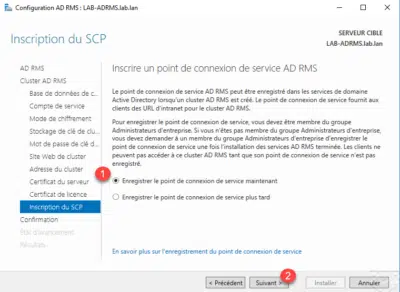 A summary of the configuration is displayed, click on Install 1 .

Wait during the configuration ….

Once the configuration is applied, exit the wizard by clicking Close 1 .

The installation and configuration of the AD RMS service is complete, the service can now be used by users with a compatible version of Office.